Only being a band for just a year, members Drew Dirksen, Liam Ross and Sean Killeen make the trendy new band RØYLS. They just released their first EP titled I Think Too Much, which includes songs such as "Choose to Believe," "We Rule the Night" and "Life Like This." Their song "Life Like This" captures their funky, groovy side of the pop music world, something you would hear in a night club. You would think from their looks that they're another boy band but they're far more than that, they play instruments, they have a unique sound that makes them stand out in the industry. ECHO had the chance to chat with the guys about how they met, their music and more!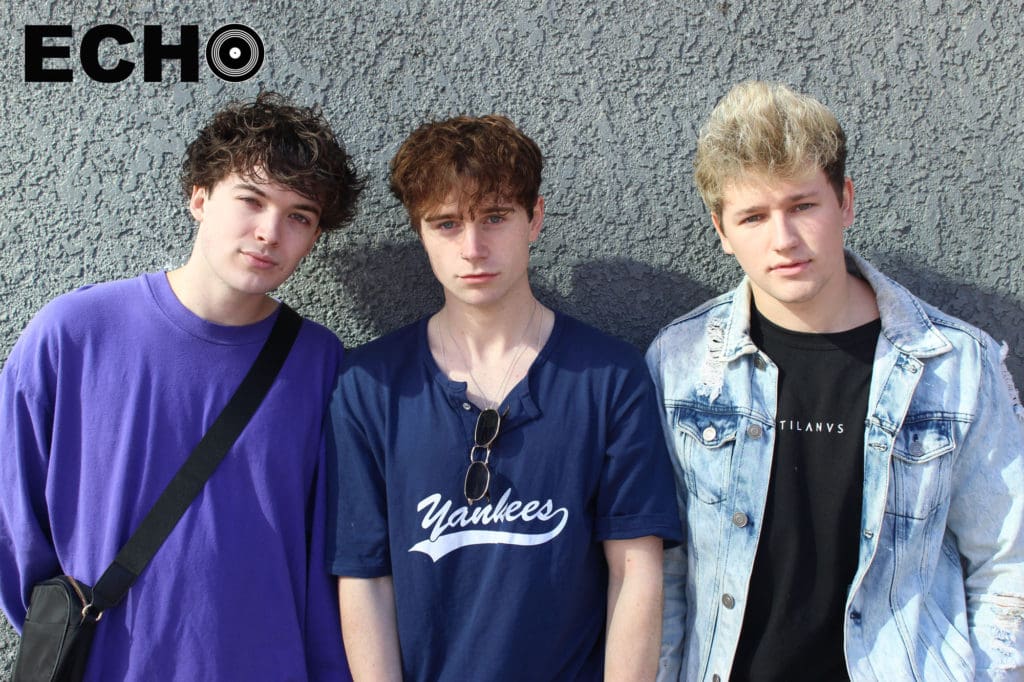 How did you guys come up with the name RØYLS?
Sean: We kind of wrote it out with the "A" and it looked a bit weird. I don't know why, it just didn't feel right. I felt like it was one too many letters.
Drew: It looks way cooler without it. We took the "A" out and slapped a line through the O for no reason at all. It's like having a T-shirt and the first person to cut the sleeves off and whatever that is and they're like that's cool.
How did you come up with the name though? Was it a random thought?
Sean: It was a Tuesday morning and I was having a cup of tea and I just thought of Queen Elizabeth and wondered how can I emulate her, 100%. No, I'm joking. There was a big list of names, I don't know how it came up, but it was on the list. When we presented the names to each other, there was this one and this other one that we liked. So we put it on a poll for everyone we knew.
Liam: It took a month to figure it out.
Sean: It took a very long time, it's the worst part about starting a band is what you're going to be called.
Liam: We were already doing band things before we came up with a name, like we were already writing and stuff with Jon Feldman and we didn't have a name. Whatever song we made was was like song by new band or whatever.
What was it like working together as a band but with no name?
Sean: It felt like a band, but was it exciting cause we weren't online at all, it was just us going at our own pace. We had all the freedom to to decide things.
Liam: We were deciding if we wanted the slash through the O, or take the A out, what kind of image do we want, and what our music will sound like.
You guys are from places that aren't close to each other, how did you guys meet?
Drew: I was on tour with my old band and they (Sean and Liam) ended up opening for us at one of our shows, so we met a couple years ago. Both bands parted ways a couple years later and they werestarted up this project and they needed a guitar player and reached out.
You guys are a brand new band, how would you describe your sound to new listeners?
Drew: To me it's kind of pop with synths and guitar.
Sean: If you put a band through a plug in.
Liam: Alternative pop, guitars and synthesizers, freakin drums.
I kind of heard some DJ vibes in your song, "Savages."
Sean: Oh yeah, we basically crossed three different genres over with each other: reggae, pop and EDM.
Your first EP just dropped back in August called, I Think Too Much. What was the creative process like and how did you come up with the name since there's no song called "I Think Too Much?"
Sean: We wrote most of the songs actually in December of last year. We wrote "Choose to Believe," which was the leading single for it in May. That was kind of about thinking too much and that kind of sparked it subconsciously. When we came together to start looking at all the concepts of the song and we were like what do we want to call this collection of work? It was kind of known that every single one was about us overthinking a situation. It just kind of came from there.
Do you have favorite song off the EP?
Drew: I love "Choose to Believe"
Liam: I like "Life Like This"
Sean: I really like "Wicked Thoughts"
You guys also released a cover of the classic holiday Christmas song "Last Christmas," is that your favorite holiday song?
Drew: Yes, it is! I love the rendition of it too, I listened to it like five times on the way up here.
Sean: What we wanted to do was, we wanted to create a version that you could listen to our "Last Christmas" and then listen to Wham!'s "Last Christmas" back to back and never get tired. There's no point it doing a cover and doing it section by section, because Wham! crushed it. It's one of the best songs of all time for Christmas; so we wanted to make it our own without completely killing it.
Liam: We love Wham! too, they're so fun, George Michael was so cool.
What is one setting you'd set up your fans in for them to listen to your music?
Drew: It would be at night, in a jeep with the doors and the roof off, heat blaring on the feet so you get that cold and warm, the lights in the city going through, epic time.
Liam: I would say dark room, get in a dark room, shut the door, put on headphones and just experience.
Sean: Honestly, I could come up with one, but Drew's sold me on his, I don't want to do anything else.
What is one quote you've heard in life that you want to ECHO out to fans?
Drew: It would be, "Don't search for happiness, create your own." You can always chase everyone else's happiness, but you'll never truly be happy; so create your own, go after it.
Liam: "Treat yourself as if you're someone you're responsible for helping." If there's somebody that's sick, you know what you need to do to make them better, or to give them a better life; so do the same thing for yourself. There's a study that people always give their dogs the medicine they need, but there's a way less chance that they'll give themselves the medicine they need. Just think about it that you're own your dog.
Liam: What dog would you be?
Sean: I'd be a husky in the forest.
Liam: I'd be a cocker spaniel living in on a piece of paper.
Liam: My quote is incredibly cliche that I live by it, but love it and I think it's the truth is that, "everything happens for a reason." You'll always have a silver lining – you can always decide how you take things and how you grow from it. Everything happens for a reason, but how are you going to learn and grow with it.
What's one lesson you've learned from this past decade?
Liam: My lesson is having responsibility is a lot more useful than I use to think. You don't really think about it when you're a kid, it sort of brings you into the real life world. It's awesome in a way, it's up to me if I screw up everything or do good at everything. It's kind of awesome to have that freedom. I think it's a good thing to be scared of.
Sean: I would say the lesson that I've learned from the past decade is, "how can you expect anyone to believe in you if you don't believe in yourself?" It's something I've always thought about whenever I'm doing anything – whenever I've wanted to pursue anything. I have to know that I'm capable it and I've got to believe and have faith in myself because how can I expect other people to give their time and effort to me if I'm not doing it for myself.
Liam: Drew I'm going to ask you this one question, what lesson have you learned from this past decade?
Drew: Failure is great, without failure, you'll never learn. You have to fail to go back up and enjoy everything and appreciate everything, learn from your mistakes.