From America's Got Talent to performing their own headlining shows on tour, We Three without a doubt is one of the next up and coming bands to look out for in the music world. Made up of Joshua and Manny Humlie and Bethany Blanchard, the three played the Wilbur theater in Boston, MA on Tuesday, March 12th to the crowd with no opening act. Known for their viral performances, the band performed songs such as "Lifeline," "Timeless," "So They Say" and their big song "Heaven's Not Too Far." ECHO had the chance to chat with We Three backstage before their show in Boston!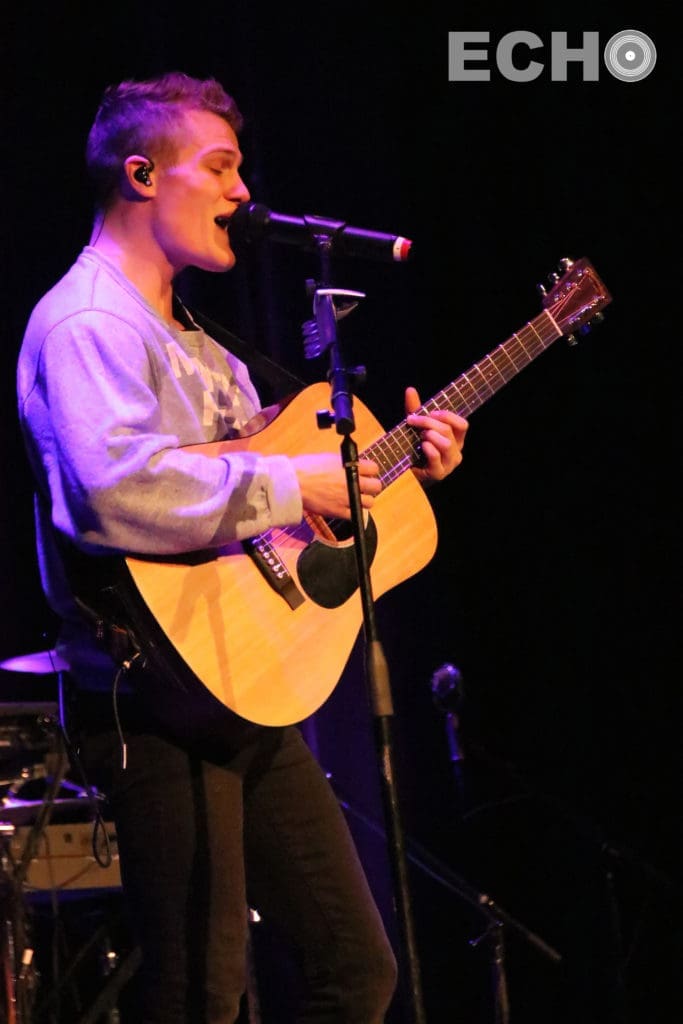 Has music always been a part of your lives?
Manny: It really has. It's kind of a part of our education growing up. Taking private lessons…
Bethany: We started piano each when we were 6 – so really little.
Manny: It was kind of what we did. Our Dad had a band that he played in. So growing up it was kind of that when you got proficient enough on a song or something that you'd been working towards- at one of his gigs or community fireworks show or something like that, we would play that song. We'd go up on the stage, do our little thing and then go off the stage. That was our big thing growing up and then it eventually turned into this.

Looking back on America's Got Talent (AGT), did you guys have any favorite memories from the show?
Joshua: Yes a lot!
Manny: I think my favorite was probably when we played "Lifeline" in the second round. I think it was mainly because when we did the first one, we were really hesitant about doing the first one because we really didn't want to be a sob story. We didn't want it to be all about that song, but we still felt like we should do it. So, going in, we were really worried that we were going to walk in and it was just going to flop and they would be like you're not making us cry right now is this song whereas the song about your Mom. That second night was just a really great night because it felt like we broke out a little bit. We went, okay we don't just have to write about this experience. But now, performing it live with fans who have heard it a listen to it – it trumps that experience. It was still amazing but…
Bethany: When they're screaming the lyrics back to you it's like…. Oh my gosh, there's no place I'd rather be.
Manny: Every night, I look forward to that moment on stage
Joshua: We grew up, a lot of it was on stage performing music so to be able to be on stage and having our own music being sung back. It's like they're up on stage with us and we're singing the song together. It's an amazing thing.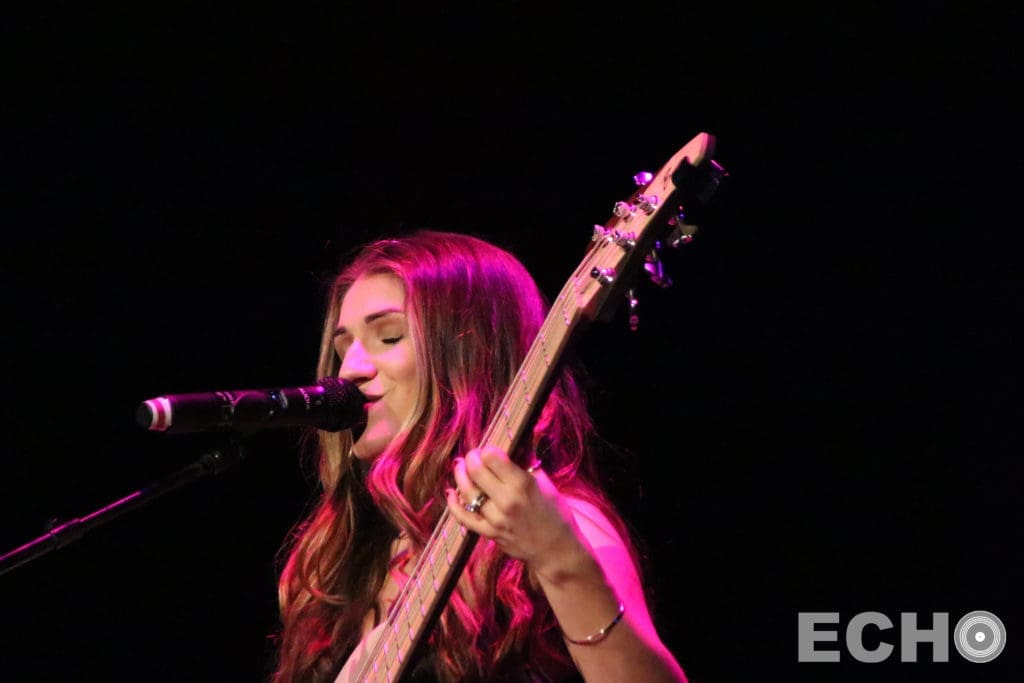 What's it like performing at your own shows versus performing on live TV?
All: You don't get judged afterwards!
Bethany: Right after AGT, I think it was our first show we realized that we don't have to walk out front and get judged by four celebrities right afterwards. Like were just going to clap and then we play the next song. I think that playing for people that are there for you – it's just more of a personal experience.
Joshua: They're there for us, but they're there because they love the music and they've listened to it so many times and I think that's just a feeling like none other.
Do you have and pieces of advice that the judges gave you that you still have held onto?
Bethany: Mostly the judges were very positive. During the first couple of rounds, one of the phrases that they said was, 'this is a platform for your guys.' And that's how they wanted us to view it.
Joshua: I think that was advice too. I feel like they were saying, don't change. What you're doing is good. We're just going to be a platform for you.
Bethany: It was validation for us that what we're doing right now is the fact that they validated this was helpful for us to know that this we need to keep doing because sometimes your just like I don't know what direction to go. Definitely that piece of advice we've been holding on to.
Joshua: It was amazing to be validated like that on National TV. I think that's something that's really cool. We had heard from people that they really liked the music. They loved the songs and what we're doing, but then to hear that from those people on National Tv. There was a lot of hometown pride after that- we were like yes we can do it. It was really sweet.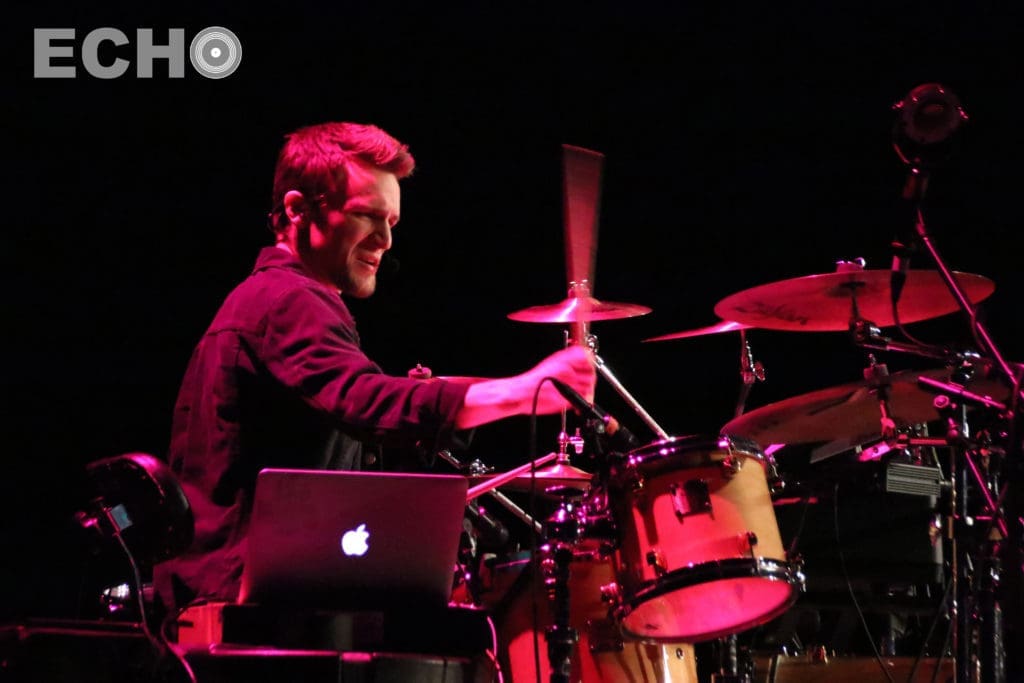 Since AGT, you've release a self-titled album, what was the recording process of that like?
Bethany: We were on a timeframe for that one. We definitely had to push ourselves- late nights. It was kind of a short period of time, but I think we like to say that there was a lot of magic in the studio because of how hard we had to push ourselves with that.
Manny: One of the songs we recorded in one day.
Bethany: The day before our deadline.
Manny: Production…everything was recorded in one day. Yeah, it was the day before we had to turn in the entire album into our label.
Bethany: I was so glad we did it because this tour is happening because of it. So many things people are saying are happening really fast and it's because we have really great people behind us pushing us. And we want to do this so badly. This is just what we love. We're getting this opportunity so we're just going to work as hard as we can. So it was a fast process.

What's the overall message behind it?
Manny: The message throughout the album is just- it's sounds cliché but being real and just trying to write about stuff that people are going to connect with. Not sugar coating things, but just saying things how they are because that's what people want to hear. That's what people want to connect to. It's just stuff that we're actually going through. Hopefully, other people are going through it too.
Do you guys have a favorite song off the album?
Bethany: Right now, mine is "Sweater Weather."
Joshua: "Testify"- I think- just playing it live. It is one thing to listen to it and it's another thing to actually perform it.
Manny: Mine's "Hold On."
You've been a band for 10 years. Most people assume you we're an overnight success, what were the challenges of trying to overcome that assumption?
Joshua: I feel like we didn't really have to prove it. There wasn't really any pressure. We just doing what we're doing and things have just been working out really well. And we've got a good team in place helping us.
Bethany: People were asking us, 'how long have you guys been doing this?" We realized we're almost at 10 years now of us being a band together and taking it pretty seriously. We had an interview with this guy that really made us reflect on everything we had to do that we were doing on our own before we had a team behind us. It was just the three of us- when it came to the bookings, everything on the website, the social media, rehearsals, all the gear, coming and being able to do everything between us. We feel like helped us so much- even at this level. Obviously, we have tons of people take over those things.
Joshua: But we know kind of what they're doing instead of blindly just letting them…
Bethany: All the work that we put in before…young artists who feel like they're spinning their wheels, it's not in vain. It's so worth it. We say that we're glad that we had those 10 years to do all of that.

What has it been like going on your first big tour?
Bethany: I love it so much!
Manny: It's amazing! Getting off stage that first night- it was just an amazing night in general. That was such a cool night. And then having the realization that we get to do it again, and again, and again, and again for over two months is just so exciting. It's a little daunting too, but more- we're super stoked. We just love playing. We just love playing live. That's our biggest thing. And we get to do that a lot.
Bethany: We really have to take care of our voices. It's just a challenge. And again, I feel like we've had lots of things that we've been practicing in terms of staying health, vocal health, fatigue. Just different muscle fatigue. It's a very energetic, moving around a lot kind of show. So staying healthy, staying in shape. It's lots of things and lots of work, but it's pushing us. And I like being pushed like this.

You're all siblings. Are there any challenges of being on tour with each other and being with each other all the time?
Bethany: People ask, 'is it so hard to be with your siblings? Aren't you driving each other crazy?' Yeah, but at the same time we've spent so much time with each other that we know each other really well. We also know how not to push each other's buttons. We know how to push each other's buttons, but if we want this to work, have to know how not to. And it's almost harder to have people we don't know very well. That would almost be harder than having… we know each other so well that we know how to give each other space.
Manny: We give each other space. We don't necessarily hang out all the time when we're on the road. When my guitar tech first came on the team with us and he did our first little leg. We just did a weekend thing and we traveled somewhere and did a bunch of shows, and he was like 'I was so surprised. We got in the van, I was just expecting your guys to talk the whole time, playing and hanging out' He goes, 'nobody said two words the whole time!' It was four hour drive. He goes, 'then you got to the hotel and your all just go in opposite directions and your gone and you don't see each other.' We wake up the next morning and we lie, let's go play the gig. Let's do it.
Bethany: There's nothing wrong but we spend so much time with each other. We don't need to always talk to each other.
Joshua: We've been talking our whole lives!
Manny: He says,' it makes sense. I just wasn't expecting it. '
Bethany: It was probably because when Dad would take us on road trips, it was like we all had to talk in the van. It was talking time. That's at least how I felt. It wasn't like don't put your headphone in, but Dad was like, 'Hey what you doing in the back? Let's have a family conversation ' And I was always like, 'no talking.'

Do you pull a lot of inspiration from your own lives when you write music?
Manny: A lot of times someone will explain something to me or say 'hey I'm feeling this' and I'll just be listening to what they're saying and take that idea and write something with it. Very quickly I realize, hey, I'm going through those exact same things. Then the rest of the songs comes out; so sometimes it's sparked by someone else saying something and then it turns into oh my gosh, I go through that so I'm sure other people are going through that.

You guys are named We Three. Name three things you like to do besides music.
Bethany: I like to go to the beach. I love eating food. Not necessary food, but I love going to nice restaurants and trying different foods. It's one of my favorite things to do. And I would say exercise, but I don't love exercise. I like binging on Netflix.
Manny: I love watching a movie that I've never seen before. I love good whiskey. And I love working out.
Joshua: Movies, working out and good wine; which is very nice because in Oregon, where we live, there's great wine.
Bethany: There are vineyards all around us. It's insane.

Do you have any advice to people trying to make it as a band, maybe even as siblings?
Manny: Be kind to everyone you come in contact with and work your butt off. I feel like we'd all say it slightly differently, but it boils down to that. Just work as hard as you can.
Bethany: You're not above anyone else when it comes to the music industry. I feel like if you're trying to get there. People who you think are…they're just people. Be yourself. I think when you finally figure out that you're trying to be you, things start working.
Manny: That nobody has done it like you have. I was working with a guitar player. I was learning a lick and I think I asked him, It feel monotonous, this has already been done. And he goes, 'but no one has done it like you. You can play the same lick that this person has played, but it won't sound the same. It will not sound the same. It's going to sound like you. 'I was like, oh my gosh, that makes total sense.' So just be yourself.
Joshua: Just be open to learning new things. Stretching yourself. Even some of the business side. I think that's something that a lot of musicians overlook. And generally artists aren't great at the business side of things, but you have to do it. So getting a good grasp of what that is and what that looks like is really important.

Do you have idols or inspirations that you would like to collaborate with?
Joshua: 21 Pilots. Love their stuff. I just love all their production and everything.
Bethany: I would say Julia Michaels.
Manny: John Mayer- huge John Mayer fans. Or really love Ed Sheeran as well.
Make sure you catch We Three live by checking out their tour dates below and purchasing tickets here!
March 16 — Annapolis, MD @ Rams Head On Stage
March 18 — Warrendale, PA @ Jergel's Rhythm Grille
March 19 — Alexandria, VA @ The Birchmere
March 21 — Cleveland, OH @ House of Blues – Cleveland
March 22 — Pontiac, MI @ The Crofoot
March 23 — Columbus, OH @ A&R Music Bar
March 24 — Indianapolis, IN @ Deluxe at Old National Centre
March 26 — Minneapolis, MN @ Varsity Theater
March 27 — Milwaukee, WI @ Turner Hall Ballroom
March 28 — Chicago, IL @ Park West
March 30 — Nashville, TN @ The Cowan
March 31 — Atlanta, GA @ Variety Playhouse
April 3 — Fort Lauderdale, FL @ Parker Playhouse
April 4 — Clearwater, FL @ Capitol Theatre
April 6 — Orlando, FL @ Plaza Live
April 7 — Ponte Vedra Beach, FL @ Ponte Vedra Concert Hall
April 9 — Saint Louis, MO @ The Ready Room
April 11 — Kansas City, MO @ Madrid Theatre & Cafe
April 12 — Dallas, TX @ Canton Hall
April 17 — Denver, CO @ Marquis Theater
April 19 — Salt Lake City, UT @ The State Room
April 20 — Phoenix, AZ @ Crescent Ballroom
April 23 — Los Angeles, CA @ The Fonda Theatre
April 24 — San Francisco, CA @ Great American Music Hall
April 27 — Portland, OR, @ TBD
April 28 — Seattle, WA @ Neptune Theatre