While over here in America we are caught up watching The Voice with Kelly Clarkson, John Legend, Blake Shelton and Adam Levine as judges, over in Australia they are doing the same. The Voice over in Australia runs the same but has different viewers and judges. Joe Jonas, Kelly Rowland, Boy George and Delta Goodrem were all judges on season 7 of The Voice. One contestant, Aydan Calafiore, also known as AYDAN, was on Joe Jonas' team on season 7. He made it to the top four in the competition and has since gone on to have success in Australia. AYDAN has recently released his single "Dust" and has been to America already to start his music career in America. While he was in Los Angeles, CA, ECHO had the chance to chat with AYDAN about his experience on The Voice and his music!
How has life been since The Voice Australia?
Life has been good, yeah, The Voice was great and since then I've been doing a lot of songwriting, meeting a lot of people in Australia that are also musicians, so life has been great.
Is this your first time in America?
This is my first-time songwriting in America, but I've been to America a bunch before.
How has your first-time songwriting in America been?
It's different than Australia, there's a different vibe and I really like it, it's cool. It's a lot of fun up here.
Are there differences between The Voice AU VS The Voice in America?
Not too many differences, we have the blind auditions then the knockout where three people go out and one person wins and then we have battles which leads into the live shows. I loved the experience, it was a lot of fun for me.
You were on Joe Jonas' team, what's one piece of advice you still use to this day that you learned from him?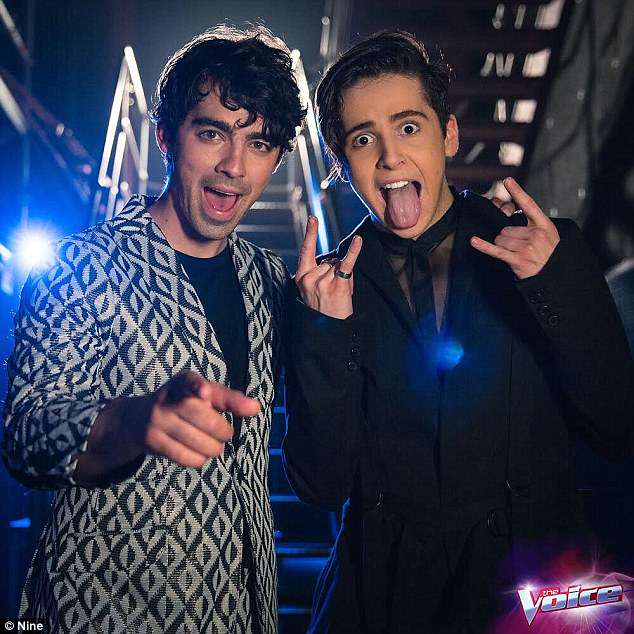 Just have fun, that's what he always said to me. He said don't stress too much because you're never going to get to do this again, you get caught up in how serious it is and then forget to enjoy it, it's going to finish and you're going to forget what it was even like to look out into the crowd. So, enjoy yourself is something I've taken with me on this journey and have applied it to my own shows in Melbourne after The Voice.
Do you feel responsible at all for their reunion?
HAHA! I was jumping a few hints and he knew at that time there was a potential, but he never said anything. I would ask jokingly "when are the Jonas Brothers' going to get back together?" and he would just laugh and now six months later, they're back together! So, I mean it could have been me, I don't really know haha.
You released your single "Dust," what was the recording process like and what's the message behind it?
"Dust" was actually the fourth songwriting session I've ever done, so it was kind of a diamond in the rough. We wrote about problems and issues because we have a few happy songs and we wanted to write a sad song, I was in a sad song mood. "Dust" is kind of about issues and problems and bottling them up and pushing them down instead of actually dealing with them, which is why we named it "Dust," like sweep the dust under the rug, so it's like the dust we sweep under us. It could be about a tough relationship or it could even be about more of a world-wide scale like politics and how nobody likes to deal with problems. It was done to encourage not to bury your problems.
What's your message to those who bury their problems a lot and are trying to fix that?
I think the first step is to find somebody you can talk to and is someone you can trust, someone you can talk to about anything and just lay it on them, that's what friends are for, to listen to your problems and then you do the same back. Once you put it out there it's a lot lighter VS when you hold them in. When you get them out there and get another person's opinion it puts your mind to ease.
Do you have a favorite line in the song?
It's one of the first two lines, it's "Is this the way I'm suppose to feel? Hiding from you and everything that's real" so it's like "am I suppose to feel like this in this relationship?" It's suppose to be good but then I'm hiding from you and everything from this relationship and keeping all these problems to myself, I'm not honest with you. I really like those two lines, it holds a bit of weight to them.
How would you describe your sound to new fans?
The way I like to describe it to producers and songwriters when I walk into the room with them, it's like 2017 Justin Bieber's Purpose had an affair lovechild with Shawn Mendes, that child would be my music, so that's what I try to harness into people.
Did you make music before The Voice?
I use to write music myself but never to the extent of music sessions and working with other writers and producers.
So, it's definitely a lot easier to make music now
Oh yeah, it's a whole lot easier and a lot more fun.
What are your goals for the rest of the year?
We're planning a release very soon. I guess it's getting the right song and releasing it and letting people enjoy it, kind of relate to the music, that will be a big goal. I also want to play more shows in Melbourne and eventually come out here and play some shows as well.
The Voice America Finale is on tonight as well! Have you stayed up to date with the American Voice?
It's funny because I've seen commercials and when I would get home from sessions and turn on the tv I would see bits of it, so I hadn't been keeping up and I guess The Voice Australia just started and haven't had time to watch that yet so I'm going to have to catch up on a lot of things!