Remember when American Idol announced it's final season a while ago? Before it came back with Katy Perry. Yes, when it was on FOX. One of those lucky contestants that made it in the nick of time before it's time on FOX came to an end was the talented singer/songwriter MacKenzie Bourg. Bourg captivated us and stole our hearts with performances and covers of songs such as "Billie Jean" and even performed his original song "Roses." He proved to us that he is so much more than another boy with a guitar. Bourg has vocal ability to sing a variety of genres and has released a bunch of singles that have done well with is fans over the last few years. Bourg is still going strong, even on Fortnite, yes the popular online game. Bourg has plans to release more music and recently released his song called "Big." ECHO had the chance to chat with Bourg about all these exciting projects.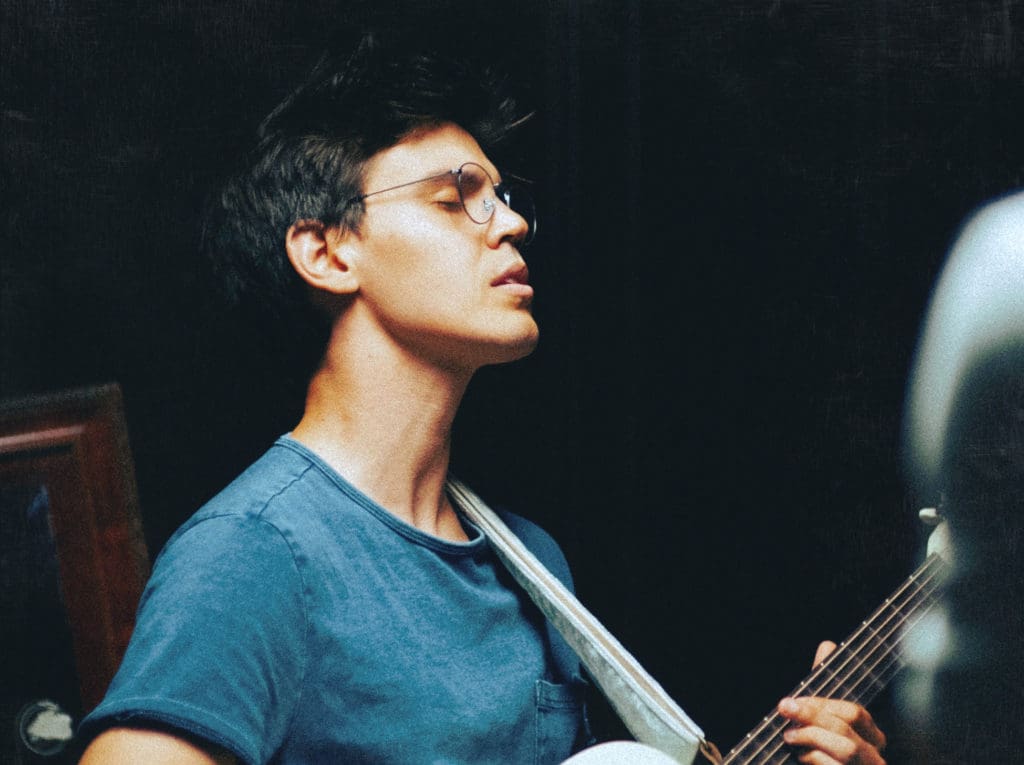 You've been doing small intimate shows. What do you like about doing shows like that?
I like that you get to kind of control people's senses. I've done a lot of these really intimate, secret rooftop shows where I don't really post about them – I just kind of message fans in group DMs and say like would you guys want to do this and I just send the link in there. It's nice because it doesn't sound incredible because it's literally just like me talking to you – I'm playing guitar and singing as if I'm in the room with them. It's like every person in one way or another, after those shows-and there's only 40 or 50 people or so at each of these – it's not massive by any means, but they truly feel like they're with me, you know? Every person either says this is the coolest thing I've ever done or I felt like we were just hanging out. And that's what I want it to feel like. Obviously, yes, I would love to be playing the Staples Center. Hopefully, one day that will happen and I'll somehow be able to translate the same effect to those people. I'm actually going to New York next week for this Fortnite world cup type situation. There's like a celebrity pro-am and I am one of the celebrity guests. I'm spinning that into… I rented out this meditation space and I've already started to send those secret DMs. It's really cool because it's just a giant, quiet – literally noise proof,  quiet room with these like cushioned pillow chairs. I'm going to fill the room, but it's gonna be something they'll never experience again. If I can't do it with just the music alone…I'm trying to encapsulate everything about the experience.

You are a well known partner for Fortnite, right?

Yeah, my buddy Jordan Fisher- I went with him. I was supposed to play in the big thing they did last year and I chickened out; so I just went with him and I got to meet Ninja and all the biggest names. I just kind of hung out and I've still been kind of hanging out with them. They asked me to play at the big thing they had at The Forum for E3 and I got an email from the people at IMG. My girlfriend couldn't come, but I'm taking one of my best friends from home. IMG is giving me two first class flights; so my friend is very excited because he's never flown first class or stayed at a nice hotel. And he's obsessed with Fortnite. He's loving it. My little cousins are also flying to New York because they just love Fortnite. It's nice that they care enough to do that . They had Anderson .Paak perform at the thing for E3 and I was like woah this would be a good relationship to keep up. 

Tell us more about your experience at the E3 event at The Forum last month.

I like Fortnite, personally. I didn't play video games growing up; so I feel like I'm getting all the video game addiction in one sitting. It just so happened to be this game. It was the loudest thing I've ever experienced because aside from having headphones, there were people yelling. There was just so much noise. I mean, it was incredible just to see that kind of world. It's funny too- I've talked to Joe about it – since then, now I get these random comments that just say Fortnite on some of my pictures from 8 year old kids. It's the funniest, most refreshing thing ever because there just so Fornite'd out. These little girls at the grocery store, like a week or so after, stopped me and they were like, 'Are you that fortnite player?' And I was like yes- sure I am. That's me. It's nice. It's almost like taking on a new persona. 

Do you think you're going to feel pressure to quit music and become a Fortnite player?

No (laughs) There's also the line where you have to be really good at the game. I'm just like wildly mediocre. All the people I know just play on computers. I haven't graduated to the computer yet. I like to sit on the couch. There's just something about that … having to sit up and really be…there's a  time and a place to sit up in your chair and I don't think video games is one of them. 

You released your song "Big" earlier this year. Talk a little bit about that,  what the reaction has been, and the process? 

It's been really nice. I made the song with Octavian. He's done a ton of  local production for a ton of really big artists. The stuff that he helped us on to begin with, I really liked it. It was cool. I was like, lets just try this. We had no intention of writing a song that day that I would release. It was kind of just – we'll see what happens. He's incredibly talented. And just the fact that Radio Disney on Sirius xm has not only supported me through my previous releases, but for this one they really stepped it up. IT had a really awesome, sick opportunity with Major League Baseball and they used it and it's all through them. Just shout-out to them. I didn't know what to expect the first time I ever went in there. They're really awesome people are they're really cool to me and I can't thank them enough.

Are you planning to release more music soon?

Yeah, I think the plan is to record an album. I'm sure – tentatively – I don't want to speak incorrectly – release a single before then. I just jumped on board with Joe and James at GTC. There's obviously incredible. There's already some songs that we really like; so you'll see them at some point. 

One of you upcoming songs is called "Paris." How did you come up with that concept?

I was playing these really jazz chords and it just sounded like Paris. It's actually one of the more aware songs that I've ever written. It very interesting and kind of like where I'm at. You'll have to see.

When you're writing a song, what do you do to clear your mind and focus?

It's really different. Sometimes, when I'm getting ready for a session, I'll just be listening to a song that I really connect with. It puts me in a different place. I just invested in a bunch of studio stuff for my house; so sometimes I'll go from playing Fortnite to working in this very small but very efficient studio setup. I take one headset off and put the other headset on. My friends are playing and they won't know that I'm not talking. I've come up with four songs over the past few weeks just doing that. It's for sure weird, but there's a weird method to the madness. There's so much adrenaline happening from that.

How have your song topics evolved as you have got older?

I'm less afraid to be honest. I've recorded so many songs since I was 19 or 20 with the intent to I release them. I'm sure that the people that followed me then and that still follow me now would have loved to hear them, but I was always aware enough that it wasn't me . It was almost fluff. And I mean, sure there's stuff like that that's meaningful to some people.  Now I'm much more honest. I'm a lot more communicative in songs and not really afraid. I have a song called "Sad on the Weekend." It's literally just because I went through a really depressed time in my life. The weekend is supposed to be the time when people are like 'let's go drink and get your mind off of things.' But you can't when your truly not feeling.

When did you know that music was what you wanted to do?

I had full intentions of being an NBA player and then I stopped growing and I was like sh*t I don't want to be an accountant – with all due respect to accountants. Then my brother was really good at the electric guitar and my uncle makes these very high end, custom electric guitar for tons of really big names. He made my brother a guitar and I loved hearing him play it and I wanted to figure out how to play it. I wasn't as good at the guitar so I made up for it by humming along and then it became singing. 

What was your first song you that you learned how to play on the guitar?

Funny enough you asked that. The third song I ever learned was Superman. I found this notebook when I was home a few months ago and that was when myspace was kind of a thing and Ultimate Guitar Tabs wasn't. So I had like written down the words to the song in the notebook along with a bunch of other songs. And my mom sent me a photo of it because they thought I was for sure lying, but there it was.

What's one inspirational thing that your would want to ECHO to your fans?

I was alone once in a hotel lobby with Cee Lo Green. He told me- it's a very generic quote, but it has really stuck with me since then and it is probably the reason why I haven't released a ton of music. He said that there's only one person that can be yourself and if you don't believe it, no one else will. I've seen that on tumblr. I've seen that everywhere else, but someone telling that to my face and seeing that he truly believed it made a huge impact and a ton of sense to me. It is something that I have stuck by. Like there's tons of fads in music. There's tons of trends. Some of them are worth getting behind. Some of them are not. I think at the end of the day, I want to believe in myself because it would be foolish if I didn't; especially if I ask the hundreds of thousands of people that follow me to do that same.