Acclaimed singer/songwriter/multi-instrumentalist, Faouzia has released a powerful collection of six stripped-back tracks. This project is highlighted by intimate versions of the fan-favorite tracks "You Don't Even Know Me" and "Born Without A Heart." The project also includes a brand-new track, "100 Bandaids," that is out now along with a new music video. Stripped showcases Faouzia's haunting and emotive vocals that will give you chills with every listen! ECHO chatted with Faouzia about her new EP and much more.
How are you? 
I'm doing well, thank you so much! I hope everyone reading this is also doing well 🙂
Let's talk your new song "How It All Works Out." What was the creative process behind the song like?
Growing up, I have always been one to worry about possible negative outcomes of a situation instead of living in the moment. This song is about all those times!
How would you say this is a different sound for you than your past songs such as "You Don't Even Know Me?" 
You Don't Even Know Me had more of an underlying Middle Eastern vibe to it in the vocals and in the music whereas How It All Works Out is more of a pop ballad!
You also released your new EP "Stripped." If you could, how would describe the overall vibe of the EP?
I would say the vibe of the EP is very emotional and vulnerable. Behind the pop melodies and storytelling lyrics, there was a lot of emotion and stories that went into every single line!
Do you have a song that connects with most off the EP? 
I would say Tears of Gold because I wrote that song specifically about many situations and friendships where I felt like I was always giving my all and receiving nothing in return.
How do you show your heritage, Moroccan-Canadian as well as your diverse language speaking skills in your music? 
You can hear this mostly in the way I sing using Middle Eastern vocal trills! I also think it would be cool to incorporate French or Arabic in my music someday!
Speaking of which, you were on a version of Kelly Clarkson's new song "I Dare You."
Talk about getting to work on such a uniting project such as I Dare You. What did you learn from Kelly Clarkson that has been in the industry for more than a decade? 
She is such a hard worker and I truly admire her so much for taking on such a big project and for learning how to sing the song in 6 different languages! It really taught me that anything is possible if you set your mind to it! She is also so down to earth and humble so it made me so happy that through all her success in her career she was able to stay true to herself.
What have you been doing to stay busy during this quarantine? 
Writing music every day!! I have also been filming so many content pieces such as music videos and also other YouTube videos as well.
What are you excited to get back doing when this is all over? 
I can't wait to perform live again!
If you could set up a fan in a setting for them to listen to your music, what setting would that be?
I would make sure that the lighting would be very dreamy by using softer lighting and I would decorate the room with simple paintings and comfortable furniture so they could feel comfortable while listening to my music! I would also make sure there's lots of food there because eating food while listening to music is the best.
What's one quote you've heard in life that you want to ECHO out to your fans? 
People will judge you no matter what you do so you might as well do what makes you happy!
Faouzia will be doing a STRIPPED: Live In Concert special that is going to stream on YouTube this Thursday (8/20) at 6pm PST/9pm EST.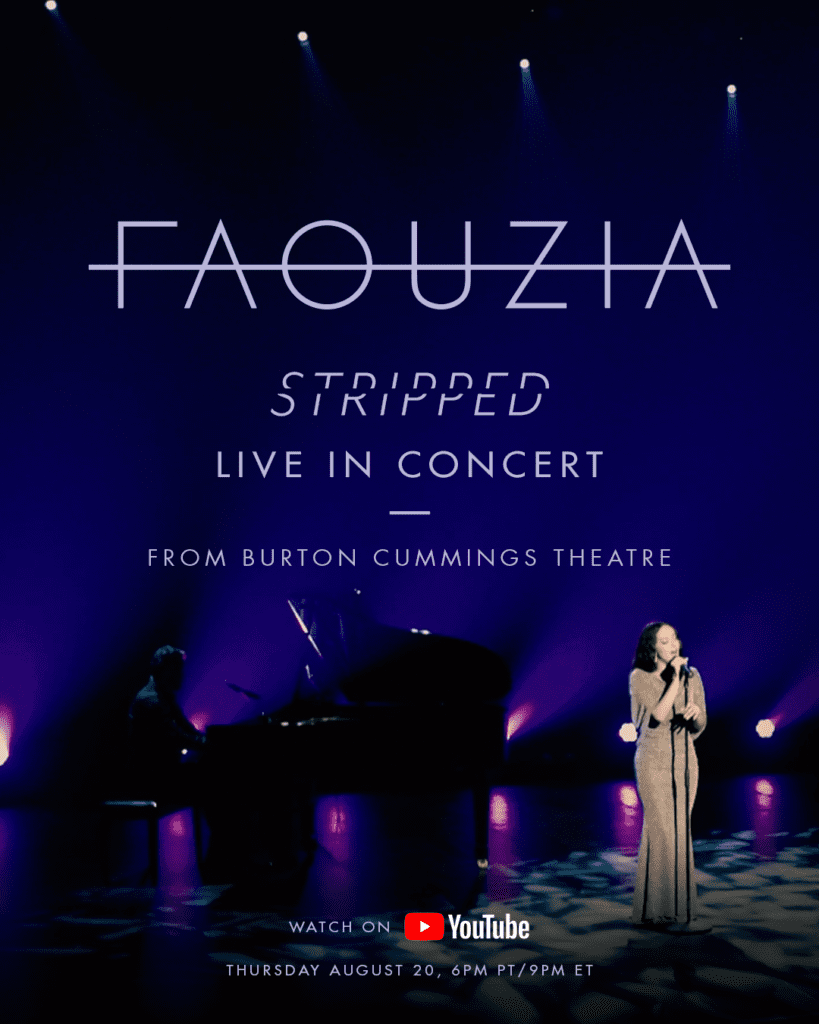 Be sure to tune into the special live concert and take a listen to Faouzia's new EP below!