Ever since the pandemic we have missed international bands here in America, but since things are getting back to normal, that is allowing bands from across the sea to tour in the states again! One of those bands we missed are the English-Irish trio, New Rules. The band, consisting of Alec McGarry, Nathan Lambert and Ryan Meaney were in LA where they wrote new music, performed at the famous Santa Monica Pier and we chatted with the guys about their band name, music and more.
How are you?
Yeah, sad to leave LA but currently drinking wine in the airport so pretty good overall. how are you?
How did you come up with your band name "New Rules?"
We were looking for a memorable name that was neither The Clumpers nor L4DZ (two genuine suggestions from people we no longer consider "friends"). And we love the dua lipa song!
You just performed a special concert in LA at Santa Monica pier. What was that experience like getting to perform for your fans in an intimate yet famous setting?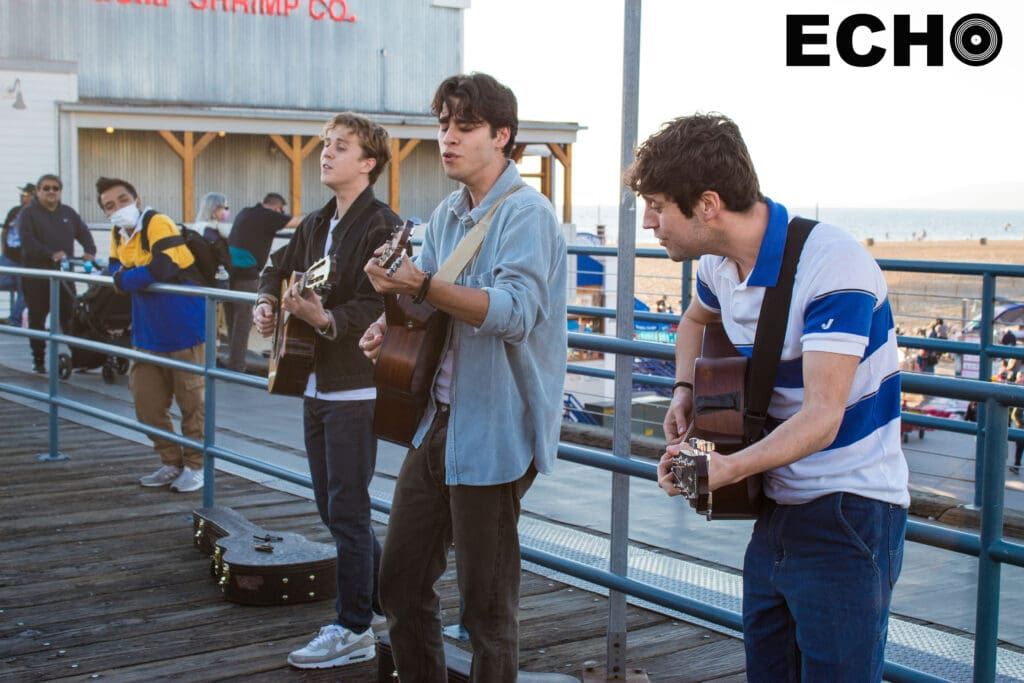 It was great, we visited Santa Monica on our first trip to LA a couple years ago, when we only had one song out, so it was a bit of a full circle moment! We didn't know how many fans would turn up so we were delighted to have pulled in a decent crowd. Some had even driven in from San Francisco which is mad. we love them!
How do you like the states compared to the United Kingdom?
We've only been to New York and LA together but we're going to Nashville in January which we're really excited for. Everything's bigger and grander here. We feel like kids in a candy shop, except the candy is weed and we're not kids. In all seriousness we love it here and we can't wait to get out and start playing some proper shows.
You recently released a song called "Cheers." Talk about the creative process behind the song for you?
We wrote it on a zoom call with some friends of ours based in LA. writing on zoom is difficult at the best of times but there must've been some magic in the metaverse that day because we finished Cheers in a couple hours and had a recorded demo by the evening
If you were to set up a fan in a setting for them to listen to "Cheers." What setting would that be?> a wine bar in LAX
What's one quote you've heard in life that you'd want to ECHO out to fans?
Adrien Brody once said "don't let your fear of what others think of you stop you from doing what you love". 
Since it's the holiday season and almost the new year. What do you want to leave behind in 2021 and what are you going to try to do in 2022?
We want to leave behind going on "ghost mode" ever again. We took a bit of time out in 2021 to write while we couldn't be out touring and seeing fans, so in 2022 we're going to be doing as much of that as we can, hopefully in the US and Europe!