About a year ago, Ross Lynch broke the news that R5 would be changing, which made fans somewhat confused. From R5, they went to The Driver Era, the same band at heart, same family, just a different, more mature sound, so fans, no need to worry, the Lynch family is strong together still. The Driver Era released their first single, "Preacher Man," in March 2018 and since then they have been blessing us with an insane new mature sound that we've never heard with R5. With Ross being on the hit Netflix show, Sabrina, and all the other members busy doing other side projects, they didn't have much time to release a lot of music. For a short time now though, they finally have sometime to reunite and decided to hit the road to go on a short month and a half long tour. Their first stop was Boston, MA at the small intimate venue called The Great Scott. ECHO had the chance to chat with Riker and Rydel on their tour bus before the show!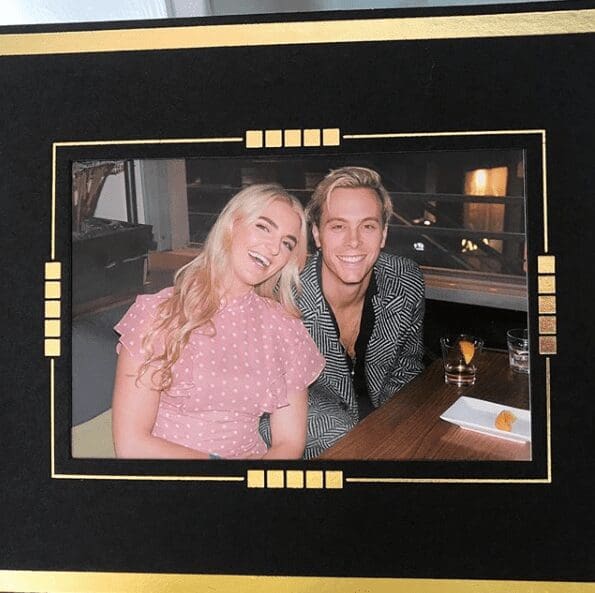 How are you guys? First show on tour!!
Riker: Ya! First show but I mean we've been doing it for 10 years now so we were all kind of nervous getting into rehearsals because we realized that we only had a week to figure out this show, and we were in rehearsals for three hours and we were like "oh right we're kind of good at this." The new ones (songs) are just different so we're just settling into the sound of how all those work with The Driver Era.
Yeah! Speaking of The Driver Era, how are the shows different than the R5 shows?
Riker: I mean you (speaking to Rydel) play a lot more it seems like.
Rydel: For me the sounds are very different as far as key boards go, I'm playing a lot of more weird samples and synths and keyboard stuff and where as for R5 it was very pop sounding piano, a lot of high synths and stuff, very different sound for me.
Riker: Even Ellington has more sounds going on because with the R5 stuff we were always like it's so pop, we were like we need to rock it out more live, so it was all live kit. Now it sort of has this hip-hop undertone so you sort of want those 808's and what not.
How did the change come about? How did R5 go to The Driver Era?
Rydel: I think it was more about having a clean slate.
Riker: I mean when you do something for so 10 years, you're kind of wanting to try something new. When we had "Preacher Man" we were like "oh this is a different thing." We knew it was going to be a big song so we were like "let's try something totally different." I think everybody was on board with it right away, we all thought it sounded really cool. I was nervous people were going to not like it because it wasn't faced with all five of us, but they brought us on tour so it worked out.
Do you guys have a favorite new song to perform?
Rydel: I like playing "Feel You Now," which comes out March 29th, that's one of my favorites, it's sick.
Riker: Ya, that's really cool, "Low" also is a really fun bass line, little bit of a Michael Jackson influence.
Aside from music, Rydel, you're celebrating your year anniversary for your clothing and boutique line, how has that whole experience been?
Rydel: It's insane, I'm having such a fun time doing it, it was a lot gearing up to leave it to come on tour, so it was just a lot of preparation, just me and one other assistant who run everything, so it's very much a home, small boutique type business. It's been fun, it's been a fun learning experience and figuring it all out and I can't believe it's already been a year, to be honest it's insane.
When creating clothes, do you ever think about "oh I would be able to wear that at the show?"
Rydel: Definitely. I feel like the whole boutique is kind of curated around my style and what I would wear and I have a lot of different variations of my style, like I have a girly side, I have the rocker side that kind of coincides with the band and stuff and then I have a extra bubbly side, I'm kind of all over the board, you know what I mean? I definitely pick from all those different personalities of mine and of course I'm like I want to be able to wear them but I hope everyone likes them as well and if I specifically see something that even the boys will wear, I'm like they definitely need to have that.
Riker: Yeah she gives me like one new shirt a week, it's great.
Riker, you're starting your own band, Riker and the Beachcombers. What prompted you to start it and what can we expect?
Riker: It's been sort of my passion music project just to do something cause you know acting is so up and down

Rydel: It's a waiting game.

Riker: It's so much waiting and I can't stand waiting around for other people to make things happen for me. With acting, you basically wait around for your agent to get you and audition and then you get the audition and then you go audition and then you wait for them to pick you. So it's just waiting and it drives me absolutely nuts. As soon as I'm on set, I love acting and I love preparing and getting into a character, but I was like I've got to do something. I just love beachy, tropical stuff. Like anything that even remotely resembles that- rum- good tequila- beach. We went on a cruise last year for my birthday and we got back and I was like when are we doing another one of those? It was amazing. I just love it.

Rydel: You should be a cruise performer. You should have a Riker and the Beachcombers cruise!

Riker: That's what I'm saying!

Rydel: Like the Paramore one. That has your name written all over it.

Riker: Eventually, that is definitely going to happen. It's just fun. There are just a ton of songs that I love that I've always wanted to cover. I'll bring them up with these guys and they'll be like no we're not covering that. So it's perfect outlet for me to cover all the songs that I want to cover. And it's fun because the band is totally interchangeable. When we played the New Years party and Ross played guitar for the band- Riker and the Beachcombers. I have members from New Beat Fund that are filling in . The Bass player- this guy used to play for Dorothy. She's a heavy rocker. He's going to play the show with me in April in LA. So everyone's just sort of coming in and out. We're working on a tour for the end of the summer and Rydell and I have been talking like maybe Rydell comes on tour with me.

Will Rydel be part of the Beachcombers?

Rydel: I'm always down.
Riker: Yeah, we've talked about it. For sure. I think it would just be fun to to just- I think eventually there's is going to be a big, big tour where it would be the Driver Era and then there would be Riker and the Beachcomber songs, R5 songs. It would just be a full thing. It's probably several years down the road once we get everything off the ground, but I could see it happening.

What songs will you be playing on tour?

Rydel: Lots of new ones.

Riker: They're not new compared to YouTube because we've played festivals last year.

Rydel: Four new.

Riker: Scared of Heights, Feel You Now, Welcome To The End of Your Life and Give Me What you want.

Rydel: At soundcheck you were like play Give Me What You Want. and I was like oh I forgot about that song. BEcause I practiced the set yesterday at home. I was super sick so I flew out later. Literally 20 minutes before soundcheck. I was running the whole set at my house and I forgot that song; so when you said it today, I was like oh crap , do I even know how to play this? Just kidding.

What are your goals, individually and as a band for the rest of the year?
Rydel: For me, I know that this tour is going to come and go pretty quickly; so I'll have the rest of the year to really focus on my boutique and continue to grow that and just expand and learn more. If I'm not too crazy with that, YouTube and all that good stuff- maybe hop on the road with this guy this summer.

Riker: Yeah, working to get that tour booked and set up for the end of the summer. I have a YouTube podcast show called Glass Half Full so I have a couple new episodes of that coming out in April. Right now I'm producing- it's in the really early stages but I'm producing a hockey film. It just landed a director. We're doing rewrites right now so that's…

Rydel: As a running joke, I want to be a bartender in everyone's project. Just 'cause why not? I was already a bartender in his movie a couple of years ago and then my cousins did a short film and I was the bartender in that and I was like oh my gosh I've got to keep this trend going. I told Ross, if there's a bartender is Sabrina – call me.

Riker: We'll get you in something. There's that and then we'll probably have summer festivals for Driver Era or just summer gigs, dates and what not. And then I'm getting married.

Rydel: That's crazy! Why don't you just throw that out there.  
Riker: We can't announce the big stuff with it, but when you see it there's a lot of stuff going on.
Make sure you catch Rydel and Riker on tour with The Driver Era at one of their shows! You can buy tickets here.