Looking at the music charts today, a lot of it is run by boy bands such as In Real Life, Why Don't We, BTS, CNCO, PrettyMuch and more. They all have choreography and vocals down but what this new boy band has is different. The new boyband called On The Outside, the first pop-country boy band. They are brining all the elements of pop and county into the boy band world and their new single "How Did You Know" is the perfect first single to represent their sound, and their music video represents how well they are as a band. You can see their authentic friendships in the video, which you can watch below.
ECHO had the chance to get the first exclusive interview with the band just a few days after releasing their debut single. Check out what the guys had to say below.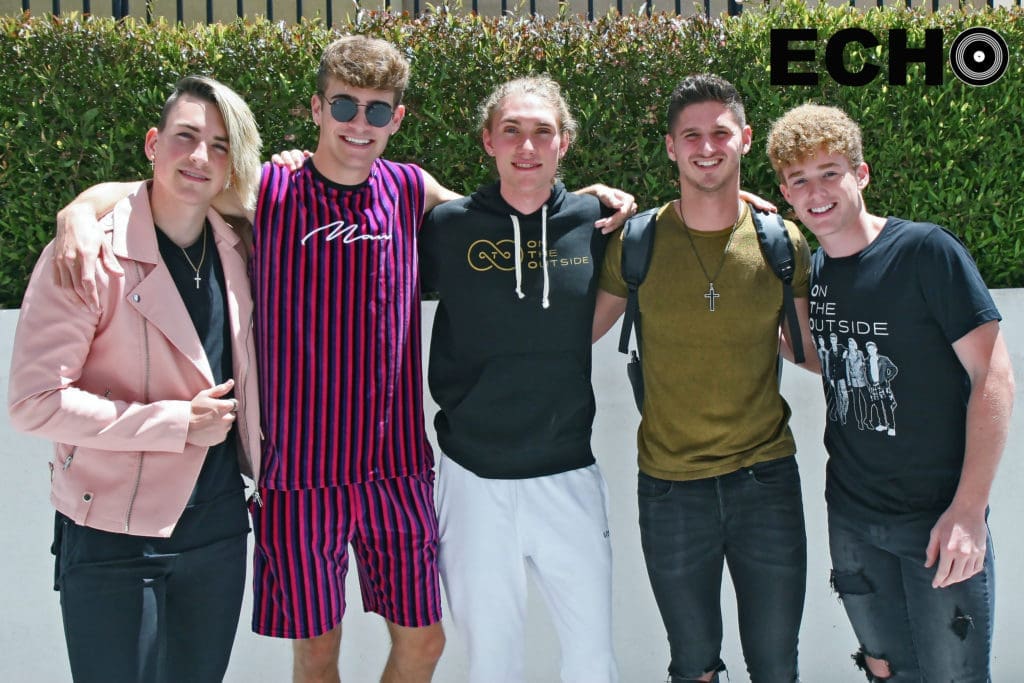 Congrats on releasing your first single as a band! How does that feel?
Jon: This has been a project for us five were the five guys of the band in the first place. So, it's been a long time coming for us and it feels like a long time coming with us. It's just been a hurry-up-and-wait game that feels so refreshing to finally get something out. It feels like we're finally moving.
Devin: I first heard the song in October. This is a song written by Grammy Award Winners, Steven Lee Olsen and Mike Shimshack and Hillary Lindsey, who wrote Girl Crush by Little Big Town as well as a few Taylor Swift songs. Amy brought to me a few songs and this was one of the first songs to play. I was so skeptical about doing another boy band because I went through a lot of different ones in the past and the second they played How Did You Know, that first verse just captivated me, and I wanted to be a part of this ever since that day and listening to the song over and over again. I've had to listen to it thousands of times already. We put it on loop this morning and it never gets old. I felt so anxious to get this out there and have people here how unique this music was.
You guys blend Pop and Country together, talk about how you combined those elements. Was the song traditionally pop country?
Sam: It was. The idea was for a pop-country boy band. I was talking about this with someone the other night too, country is about how real your lyrics are, it's about the story, it's about authenticity, the rawness. Pop is more about production and catchiness really. Pop is how are people going to listen to it, what's trending right now. The person behind the idea, Mike Shimshack, who is also the lead producer of the project, it was his idea and we have a bunch of people making sure we're keeping the sound we want. We want both ends of pop and country. We don't want to sell out to what is the most popular thing we can do, it's also what is the most popular authentic thing we can do.
Talk about the process of working on the song together. What does the song mean to you guys?
Andrew: When we first hear the song 'How Did You Know,' we talked about this last night, I feel like it could mean so many different things to so many different people. To me it hits home with relationships. That one person who will always come running back to you. It's like 'How Did You Know' that I wouldn't even last a minute away from you. It could mean so many different things. For us in Nashville it feels so special, we went there and recorded that song that was kind of the first one that we feel like that was done. We sat there on the couch and listened to it and we were all saying how special this was.
Jon: It had a demo singer on it before we recorded it and then when we got all five of our voices on, I couldn't have imagined the difference it was going to make. So, when I heard it and when we all sat down on the couch and heard the chorus for the first time, we were like woooo, this is real, it was like an explosion of emotions.
Devin: When that chorus hit I just got hit with a huge wave of emotions. Working on the song together in Nashville was great. We went to our producers, Mike, house, he's got a home studio in the basement, so it was a home feeling and that's a theme we like to carry throughout our music and brands and stuff, is that home feeling, is that genuine feeling is everything that goes with us, togetherness. On this project it's not really like an executive finds you and throws you all these different really fancy studios and with different producers and stuff so it's more of a family thing/vibe. Just working on 'How Did You Know' and all the other songs as well, it makes it so much easier to go through that process when it's family. With this brand that we're trying to carry out is because a lot of people these days have this untouchable vibe and we don't want to do that. We want to connect with people. We want to actually be a part of their lives instead of just something that they enjoy and so the whole family vibe everyone was talking about really helps us carry that into what we're giving the world.
Sam: It's not just show business for us, it's so much more of a real thing for us.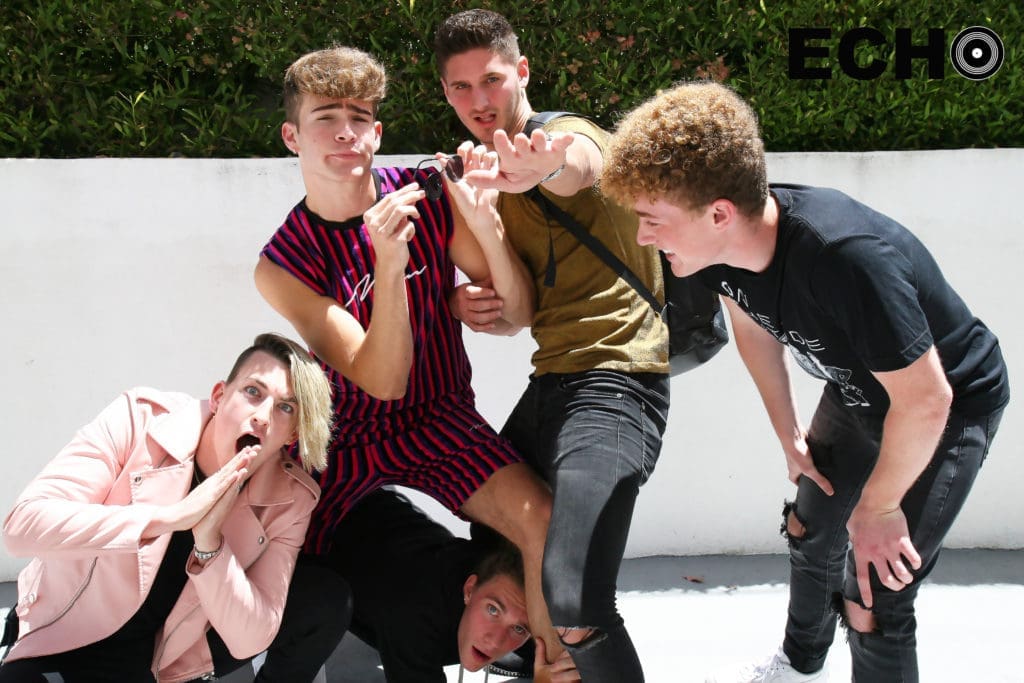 Were all of you on Boy Band?
Andrew: Jon, Devin and I were all on Boy Band.
Devin: We were in a group together, so we have our own inside jokes. Funny thing is that I never said one word not even hello to Jon. I'll say it straight up, I remember seeing this guy and I was like who is this guy with the hairdo. But, there was this one night after we got eliminated, he came back to the hotel and said hi to everybody and he was friends with Chance, who was a big friend of mine, still is. We were all in the same room and I remember finally saying hello to him. Jon and I sat down and started playing zombies and stuff and he seemed like a really genuine guy. I remember that so clearly, it kind of took me off guard because it kind of gave me the lesson of why pre-judge people like that, why be "oh that's someone I wouldn't want to know. He's like a brother to me now, I moved in with him.
Jon: We even became roommates after the show.
Devin: It's so weird, I learned so many lessons in my life and Jon is one of the biggest lessons that I've ever had past the Boy Bandstuff and just making me a better person. That's the thing about the band is our chemistry, it's on point, which makes everybody so much better. I know that we just took this question from show business to chemistry but that's the realness of the band, it's really not talking about what shows we did together or what thing, it's more personal.
Sam: If the question is about show business then the answer is really yes, show business is important. The show business is very cut off, you get told no a lot and you're pushed out a lot, especially in LA, I find a group of friends who care about you but you also trust, because people will pretend to care about you to see what they can get out of you. This is a little different, actually a lot different because instead we're all trying to give each other something, we're all trying to get each other better. We're trying to change the show business, to make it a little more personal and more caring how it seems to be.
Devin: Not only as a band but as friends.
Jon: Devin could probably say the same thing, I've been in countless other bands, but this band is something that I've never seen before. There's typically one or two people where they're kind of rubbing each other the wrong way and you just have to work around that for the business side of things, but of course there are moments where we hate each other, but the same things happen with brothers. The best part about it though is when we know we hate each other, we still love each other. Knowing that is the type of chemistry in friendship that I've never had before.
How did you guys come together to form the band?
Jon: Devin, Andrew and I all knew each other. I actually met Andrew on the finale season of American Idol, long time ago. We were on that together, so we knew each other before Boy Band, then Devin became my roommate. Sam Jenkins has been my best friend for the past three years. So, we knew each other really well. He got to know these guys pretty easily. Dawson is the diamond in the rough. We were actually doing open call casting for the band and we were in sitting in the audition room watching tapes, looking up people online and went through a few peoples YouTube pages and we weren't finding anyone. Then he popped up, I forget who found him. Shaunda found him and we watched his YouTube video and we were in love with his tone. He had something so unique and we emailed him. He basically hit us right back. We FaceTime him in the audition room and say hey. You could tell that he was being so chill, he was like "yeah, so what's this about." I feel like after that call ended he just exploded out of happiness. He was just sitting there like yeah, no big deal.
Dawson: I was trying to keep it together. I just talked to my parents about it.
What did your parents say?
Dawson: My dad at first was like "don't get your hopes up" as well as my mom. They told me to look her (Aimee) up and look the guys up, so I did that and they all seemed legit, so maybe it's not fake. Now I'm here
Devin: Our producer Mike, the one with the idea to put all of us together, drove five and a half hours to get with Dawson and his parents to show how much he cares for this. He drove so long just to talk to them, he cared that much about getting Dawson to join the band. That just shows even more how much of a family this is. What LA executive label person would drive that far?
How do you guys plan to stand out in this massive pool of boy bands?
Devin: I'll tell you right now. I mean this band is something you've never seen before. It's not mainstream. It's not country, it's not pop. This music is so raw and so genuine. Think about the boy bands out there right now, think about their choruses, think about their music. It's great music, it's awesome music and I'm saying this with confidence, not putting down any other boy bands, but what's special about our band we have those classic arrangements in the chorus and everybody is singing their arrangements, there's no real pop stuff where someone is singing something special, it's that arena feel. Listen to the music and listen to it in an arena.
Andrew: We're not making music for what's trending, we're making music that's timeless. It's sort of like what Bruno Mars or what ADELE is doing, there's the right songs that are classic feels, I feel like that's how we stand out as a boy band. We're not making music just for now.
Sam: It's not invasive, it's inviting. It's not up in your face, it draws you near.
Jon: The gist of it is, all other bands you see right now, in five to ten years, who knows if they'll be in the music scene still, since most are following the trends and the trends change, we're not going to follow trends, we're setting our own trends. We're doing something that's bigger than this era.
Devin: That bleeds into the name On The Outside. We don't want to follow that trend, we don't want to follow the norm. We want to figure out all these different ways we can do our own unique thing. Yes, sometimes it will work and sometimes it won't, but that's the rollercoaster.
How did you guys come up with the name 'On The Outside?'
Devin: We had many names. We thought we had a name for a week and then we thought we had another name for a week, we just kept all talking in the group chat, throwing out ideas. I remember Jon saying something dope about Outsiders or something like that.
Jon: I think it started with the fanbase name. We really loved outsiders, we loved calling them outsiders, it felt like a family.
Andrew: Community of outsiders together.
Devin: That's how we came up with it, in the group chat, we were just like 'On The Outside,' that's dope. It came naturally and was sort of a last minute thing.
Was that challenging to record and make music when you guys didn't even really have a name?
Sam: The name definitely makes you feel that we're going to do this no matter the outcome, we're going to be together no matter where it goes. So, for us to do it not even knowing what our name was fits into the brand 'On The Outside.' We're going to stick together through everything.
Devin: Also, we're weird people, we love to goof around, we love to make funny imrovs and look stupid. A lot of people will try to put on this character when the camera comes on and try to act cool. But we're not afraid to be our trueselves. I want to show people my ugly. There's so many messages that come with this band.
Sam: Let's get freaky
What is next for 'On The Outside?'
We have a music video coming for "How Did You Know." We also have ten songs done and an acoustic version of "How Did You Know." We're just going to keep pushing and explore different areas whether it's business of music, performing and all that good stuff. We're just trying to find our path right now.
Jon: A LOT MORE MUSIC 
Watch the new music video for their debut single "How Did You Know" below!