Some may say New Hope Club could be the new big British Boy Band and those who say that are more than right. Last week, ECHO attended their Los Angeles headlining show at the Troubadour in West Hollywood. The fans were screaming at the top of their lungs as if New Hope Club were The Beatles on stage. In a way, they sort of resemble that classic boy band feel the The Beatles had. Their songs such as "Why Oh Why," "Love Again," "Crazy" and "Medicine" had everyone singing every single lyric. It was definitely a memorable night for fans.
ECHO had the chance to chat with Blake, George and Reece before their big headlining show.
How has life been?

Blake: It's been honestly an absolute roller coaster. We haven't stopped. We've been touring for a full year, nonstop. We've done Asia shows, Europe and now this is the U.S. part. It's been incredible – the most surreal experience. Now we've done obviously a lot of support starts and you've seen us in the supporting shows. Yeah, we finally get to do our own shows. Our own fans have turned up to our gigs We saw them standing out which is insane
How does it feel doing the first headlining shows in America?

Blake: Honestly, it's incredible. Because it's so far away from home as well. To be able to come over here and to be able to play such an iconic venue like the Troubadour. It's insane. I mean like I haven't seen the Elton John biopic film, but he starts in the U.S. in the Troubadour. And look at the career he has.  

How would you compare the crowds in American versus the crowds around the world?

Reece: These are our first shows in America. The obvious comparison is that we are not as well known out here. I think it's just starting to grow out here a lot more. Like when we put these shows and we had no idea that they'd sell out at all.

Blake: We were so nervous.

Reece: To sell it out is just incredible. It's such a good feeling. And obviously, it means that we can come back and do another show as well; which is so exciting for us. It's so cool. We played our first show last night and the crowd was absolutely insane. Just not what we were expecting 'cause we haven't done that many shows out here; so we didn't know how it was going to be and the crowd was crazy. It's going to be good tonight; as well.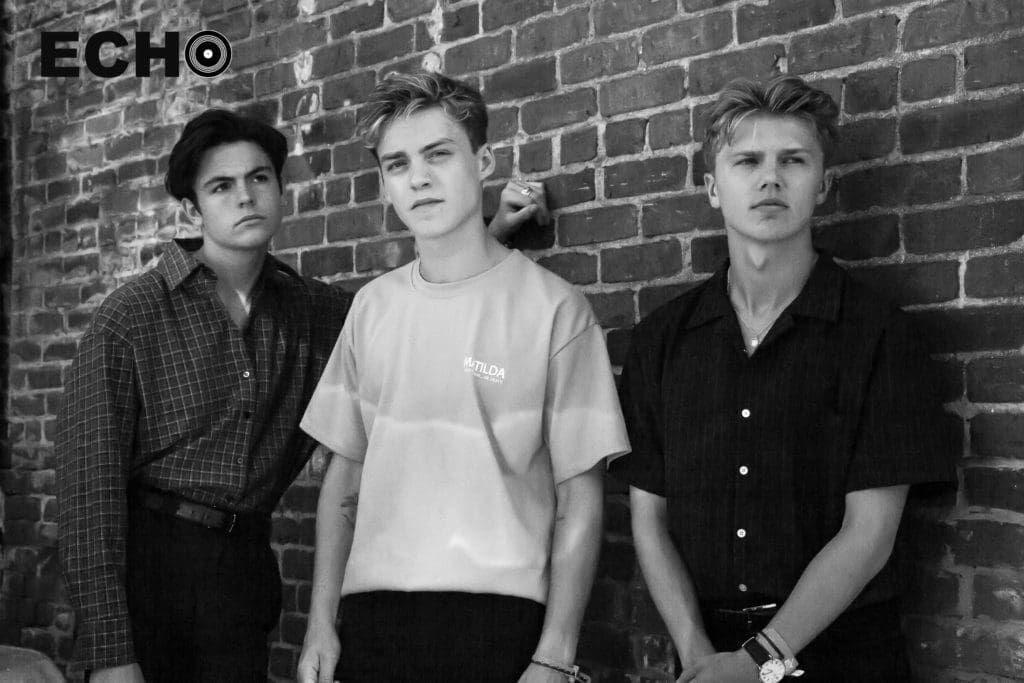 What was creating your single "Love Again" like?

George: We've had that song for a while. It took quite a while to get the final production of it. As soon as we heard it when we got it back finally, we were so happy with it. Actually, we recorded the vocals at Abbey Road where The Beatles recorded. So, that was really, really fun. I forgot about that. It was good fun. We are happy that the fans seem to be liking it. The music video is doing really well . We had Bailee [Madison] come down and be in it. It's good fun. We shot it on a sunny beach. It was absolutely freezing. It's nothing like our "Crazy" music video on Venice Beach. 

Blake: We had blankets and big puffer jackets.

George: We are super excited to play it for the first time in the Troubadour tonight.

How did you connect with Bailee and make her a part of your music video?

Reece: We met Bailee about a year ago at a few events and stuff like that and we just became friends. She liked the band. She liked the music. We asked her to be in a previous music video, but then timings and all that didn't work out. Then we asked her to be in the most recent one and she was.

Did you have a favorite scene from the video?

Reece: Obviously [huge smile] at the end. It was just fun to film you know. Honestly, what was equally as fun in the theme park. We got to ride rollercoasters that were closed.
There's been talk of you working with a DJ. Can you talk more about that?

George: We've got a few songs coming out with different DJs. We've met just a few, but yeah, we're super excited . We've done one feature song before. We did one with The Vamps. The fans seem to enjoy it and we enjoy playing it live. We think it's going to be cool to collaborate with different artists. I like to collaborate- like Ed Sheeran has just done his Number 6 Collaborations. I mean, it's not an album for what we do, but it's another song; so it will be good to play. We've played it once last night and we're super excited to play it again tonight. Hopefully, the fans know a little bit of the lyrics.

Do you have a favorite song off the Ed Sheeran album?

Reece: I like the Bruno one. Cause its just so different for him..and Chris Stapleton

George: I like the London one with Stormzy.

Reece: I like the Khalid one- "Beautiful People."
Is there anything that you miss when you're touring and away from home?

Blake: Family is the main one, but honestly like they're just really happy for us and what we're doing.We stay in contact with them every single day. We speak to them all the time. This year we've literally only been home 10 days in the whole year– something like that. It's been a bit, but luckily we've got facetime and stuff like that. Not like back in the 1960's or even 1990's … even 2008.

You're doing a contest with your asking fans to create a love song playlist. What are some songs that are on your love song playlist?

George: "Love Again"

Reece: "Don't Go Breaking My Heart" by Elton John

Blake: That's our karaoke song. I also like Eric Clapton's – "You Look Wonderful Tonight" or "Let's Get It On" by Marvin Gaye.

George: You know the uber driver played that in the car yesterday. It was me Ben and Joe in the car and I was like okay?

What is one inspirational thing that you've heard that your would want to ECHO out to your fans?

George: My Mum always says 'practice makes perfect.' If you want to achieve anything, as long as it's not impossible like jumping extremely high or something like that, put in loads of practice and you'll be able to get a really good shot at succeeding in that subject.

Blake: I would say my one is – it's easier to be nice than be a dick. 

Reece: I don't know. Stop, look, listen – road safety is always important. Keep your chevrons. Chevrons are how far away from a car you are. Two chevrons you must keep. That's why you have such a traffic problem in LA because no one is keeping their chevrons. If everyone just kept two chevrons there'd be no problems.

What can we expect from New Hope Club next?

Blake: We are going to carry on touring. We've got to finish this U.S. tour and then we've got the U.K. tour. Then we go back to Asia. And then there's talks of some other place, but it's not been mentioned yet. Then the album. We are working on the list and which songs and that kind of stuff right now. Then just new music. It's gonna be coming.