This year has been big for Dana Vaughns, from performing at Kanye West's Sunday Service at Coachella to dancing for Cardi B and Offset at the BET Awards. Dana Vaughns has had a successful 2019. Vaughns just finished touring with Jordyn Jones promoting his new music. ECHO had the chance to chat with Vaughns at his LA show at The Mint Club.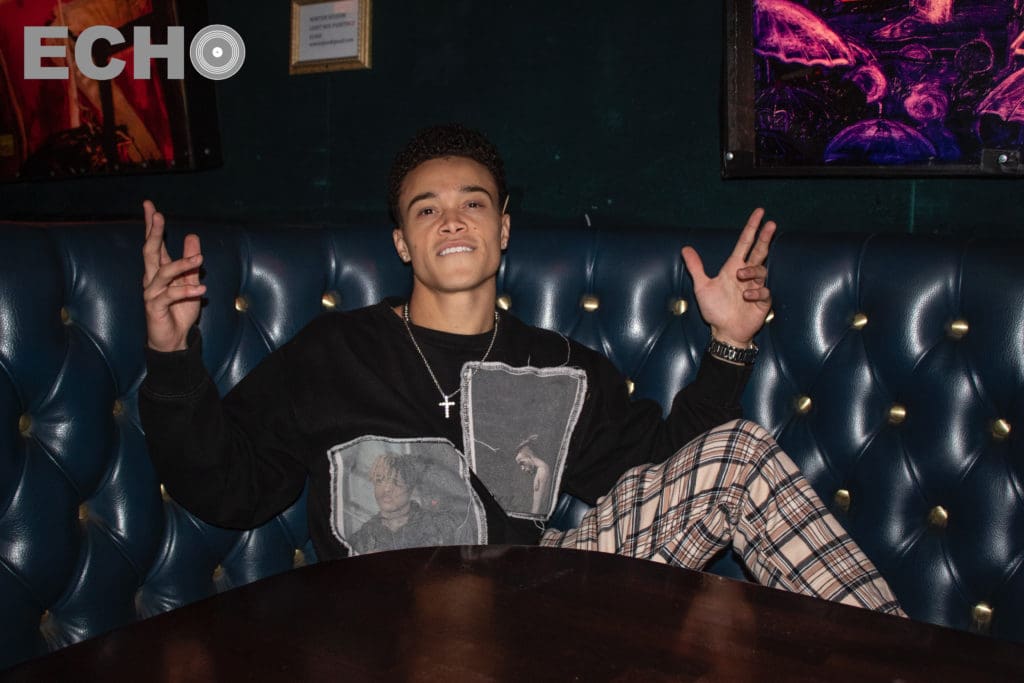 How have you been?
I'm good. I've been working a lot. It's been non-stop.
Let's talk about "Lovey Dovey." How did the concept come up for that song and how did the collaboration with Jordyn come about?
It started with me just coming up with the track. I had the baseline in my head and it really just started from there. "Lovey Dovey"- the title didn't come until after I got the "everywhere you go." – you know that part? And then that next part was just an idea. I knew it had to be something like that; so I just kind of freestyled it and that's how it came about. It's a fun play on words and it just kind of felt right. The song was done- It was short. It was like two minutes 50 seconds. Me and Jordyn had recorded prior, like two years, and I was like could you throw a verse on this before the project is done?
Between the three singles that you have out now, what is the one that connects with you the most?
Connects with me the most? You know, it's hard because I connect to all of them because I wrote them at different times. I think on a consistent maybe "Sweet Tea." I think it's the scenario, you know.
How as it been finding your sound as a solo artist?
It's been great. Just uncovering new discoveries. You know these times when you feel like you're just working. I'm happy that I've found what I have found, though. I can't say exactly what it is or what not, but I know where to go and I'm creating. I don't really question it too much.
Who are some of your musical inspirations?
Jill Scott for sure. Usher when it comes to just his legacy. Really those two: Jill Scott and Usher mainly. Then, James Fauntleroy as a writer and Pooh Bear as a writer. They're great. Pooh Bear has created every Justin Beiber song.
You danced for Cardi B and Offset at the BET Awards. What was that moment like for you?
It was just cool to be with Cardi for her first performance that was on that level. She hasn't done that with a lot of dancers-almost a Beyonce type performance. It's cool to be up there and be part of that. It was cool to be there and be in rehearsals. It was a great accomplishment, but it wasn't something that was life changing. It was cool.
What about you participation in Kanye's Sunday Service at Coachella?
Now that would be more on the like, 'alright, I won't forget that.' That's a crazy moment.That was next. You know just to be a part of that and hand chosen. There was no audition. It was incredible to be part of the Sunday Service. Coachella was the biggest Sunday Service they ever had.
You're in a new Netflix series with Mindy Kaling. How did that come about?
I just went on an audition. My manager got me the call. I went in for another role originally. They called me back for this one. It's coming out next year. I don't know exactly the time frame. They haven't given us a time frame. It was really fun. It was great to be on set working with her. All the writers are incredible. I think it's a good balance between comedy and a relatable coming of age story about a young Indian- Americasn girl in school; so there's definitely a lot of minorities represented that you can connect to as well.
If you could set up the fans in the perfect environment to listen to your music. What would it look like?
The studio. I don't think people have ever been in a real studio, like with a big SSL board . There's not really too much better to listen to some music than in the studio.
What is one quote that you have heard in life that you would want to ECHO out to your fans?
It's not one that I have heard, it's one that I came up with myself. It's shine your light so that others can find their own. It's the same thing, like being an inspiration by being yourself. You know that type of deal. Almost like a lighthouse. A lighthouse don't tell nobody to look at it; it just shines. People that are lost find the light and they find their own.
What is a big lesson that you've learned in this past decade?
I would say balance. I think balance has been a big lesson for me. I can't say that I've perfected it, but I can feel that this is my first year when I'm know I'm like working on getting better because I'm realizing where I could be unbalanced. I feel like that is a big lesson that I've learned that I've learned that I'm still trying to put a cap on. Before, it was just being young, you know where you just come up with that routine – that flow you get into.